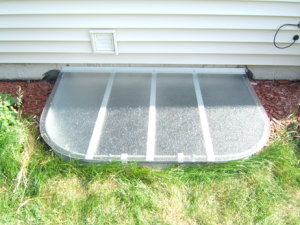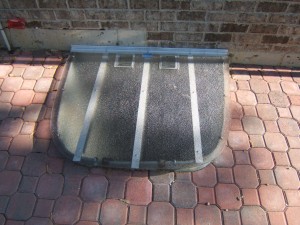 Products | Free Estimate | Coupons
Well Covered is widely recognized throughout the Greater Chicago Metropolitan Region as the foremost source of window well covers. We are well known for providing custom-made, basement window well covers specifically built for our customers. On the occasion you are searching for well covers for your residence, Well Covered can take care of your needs regardless of the size or shape of your project. Our window well covers offer the following features:
• Made of G.E. Lexan (polycarbonate resin thermoplastic);
• Come with a lifetime warranty;
• Custom-made on site to ensure perfect fit;
• Support up to 800 lbs;
• Allows over 98% of light; and
• All anodized aluminum metal parts – will not rust!
Consequently, it is no surprise that our Aurora residents consistently prefer our superior well covers over those of our competitors
Aurora Window Well Covers
With close to 200,000 residents, Aurora, Illinois is regarded as the second most populous city in Illinois. It is spread out across four counties – Kane, DuPage, Will and Kendall Counties. Lombard, home to Well Covered, is located only about 24 miles northeast of Aurora. Whenever Aurora residents are interested in having window wells installed, only the best well covers will do! Well Covered has the capability to accommodate all of their customers' needs for basement window well covers. It is no wonder that Aurora customers not only clearly appreciate the quality of our products, but they also greatly value our feature that delivers customers with neighborhood discounts! Even though we are most celebrated for serving customers in and around the Chicagoland area, we are certainly agreeable to going beyond our customary service area for larger window well covers projects.
Aurora Basement Window Well Covers
If you have reached your saturation point of dealing with dirty refuse and critters that have collected in your window wells, you need to contact the experts at Well Covered. Further, we are also able to ensure that your window well covers fit snuggly and will be durable and sturdy so that you will never have to worry about them breaking or blowing away like cheaply made well covers frequently do. Well Covered's basement window well covers are able to support up to 800 pounds and avert flooding and discourage break-ins. In addition, we can also provide security attachments, and all of our products carry lifetime warranties. Regardless if it is egress window wells or standard window well covers, Well Covered is the only name you need to know. For all your window wells and well covers needs, call us today at: (630) 792-0069.
Aurora Window Well Covers | Aurora Window Wells | Aurora Egress Window Wells | Aurora Well Covers | Plainfield Basement Window Well Covers