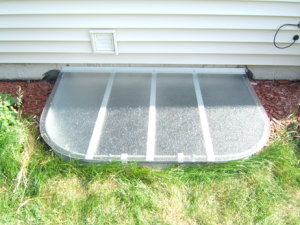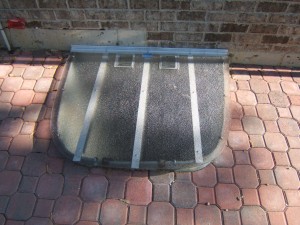 Products | Free Estimate | Coupons
Don't let unsanitary and compost-filled window wells get the best of you. There is nothing quite as disgusting as a bunch of rotting leaves and other debris piling up in your window wells. But, whatever you do, don't despair! Well Covered can solve that problem for you, fast, efficiently and affordably. We are well-known as a leading source of window well covers throughout the Greater Chicago Metropolitan Area. We deliver the most exceptional, customized, basement window well covers that are designed specifically according to our customers' wishes. If you are searching for well covers tailored for your property, Well Covered can help. You can rely upon our window well covers to:
• Support up to 800 lbs;
• Discourage flooding;
• Thwarting break-ins;
• Possess a lifetime warranty;
• Provide more than 98% of light; and
• Never rust!
Accordingly, it makes perfect sense that Batavia residents select Well Covered for all of their window well covers needs!
Batavia Window Well Covers
There are 26,318 residents in Batavia, Illinois, which is primarily found in Kane County with a small portion situated in DuPage County. Lombard, the home of Well Covered, is conveniently located nearly 19 miles east of Batavia. Whenever Batavia residents are in the market for superior window wells installation, they visit us in Lombard. We are celebrated for having the requisite training and experience to handle all of our Batavia customers' basement window well covers. We are prepared to deliver Batavia customers the unparalleled quality they deserve in addition to offering Batavia residents neighborhood discounts! In fact, Well Covered not only serves Batavia and other clients in the region, but we are also able to travel beyond the Chicagoland boundaries for larger window well covers projects.
Batavia Basement Window Well Covers
Well Covered ¬is able to handle all of your window well covers needs. We have the ability to enhance your basement window well covers and install egress window wells to take care of every possible situation you may face. You can rely upon our window well covers to be a perfect fit, resistant to all kinds of weather related issues and as close to completely indestructible as any window well covers can be. Furthermore, you can rest assured that your well covers will not crack, break or blow away in a strong wind. Besides that, our basement window well covers not only have the ability to support up to 800 pounds and have security attachments, but they will safeguard your home from flooding and intruders. Finally, all of our products are covered by lifetime warranties. As a result, Well Covered is recognized as the principal source of window wells and window well covers in the area. To find out all about our outstanding products, give us a call today at: (630) 792-0069.
Batavia Window Well Covers | Batavia Window Wells | Batavia Egress Window Wells | Batavia Well Covers | Plainfield Basement Window Well Covers