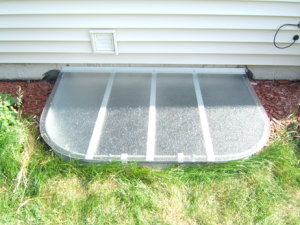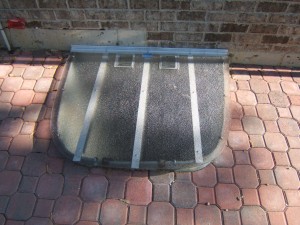 Products | Free Estimate | Coupons
Each and every time any client is checking into spectacular and successful window well covers, they get in touch with the industry professionals at Well Covered, which is best-known as the premier window wells service provider located within the Greater Chicago Metropolitan Area.  Our well covers are custom made for every one of our customers as specified.  In truth, our service group custom produces the well covers on location to avoid any issues.  As we always say, regardless of the appearance or size, we have you Well Covered!  All of our window well covers include some great benefits, for example supporting up to 800 lbs,  will offer 98% of light, each is designed on site to guarantee of a proper fit, constructed of G.E. Lexan (polycarbonate resin thermoplastic), crafted from a rust free Anodized aluminum metal and each consists of a life-time warranty.  Consequently, it's actually not much of a secret that explains why citizens in Frankfort prefer our top-quality products over those from our competition!
Frankfort Window Well Covers
Frankfort, Illinois is village placed in both, Will County and Cook County.  Also, the population in Frankfort is just over 17,000 citizens.  In 2007, according to Forbes, the village ranked as the 36th fastest growing suburb in the U.S.  Certainly, Frankfort is a beautiful city, and the locals are very fascinated in having only the best craftsmen improve their homes such as with Well Covered – specifically when related to selecting specialists to fit their basement window well covers.  Not only does our customer in Frankfort get pleasure from the quality of our products, they also they like the added benefits given.  Though we are recognized for helping our customers residing all over the Chicagoland region, we are always ready to travel beyond our typical service location for more substantial jobs.
Frankfort Basement Window Well Covers
Eliminating the yucky stuff and critters that have built up in your window wells can be obnoxious over time when that happens, just call Well Covered.  Finding a specific fit for window well covers or avoiding low-priced, plastic covers that crack or blow away, then you will be quite satisfied with Well Covered.  Our basement window well covers handle up to 800 pounds and help stop water damage and break-ins.  Security attachments also could become available, and just so you know every single one of our products includes a life-time warranty.  What isn't to love about it?  Ultimately, the International Residential Code (IRC) does call for the egress window wells that are 44-inches deep or higher supply a strategy for persons to get out of the window wells.  These may be available in the form of a step ladder or steps for the egress window wells.  They also come in a wide range of step sizes like 4 foot, 5 foot and 6 foot.  Subsequently, if you are all set to get those window well covers that you and your family are worthy of, get in contact with Well Covered at: (630) 792-0069, today!  You are going to be so excited you did!
Frankfort Window Well Covers | Frankfort Window Wells | Frankfort Egress Window Wells | Frankfort Well Covers | Plainfield Basement Window Well Covers