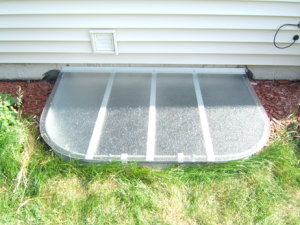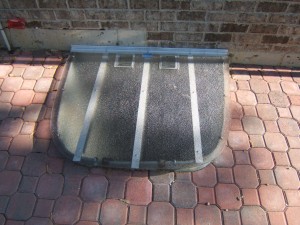 Products | Free Estimate | Coupons
Don't let unsanitary and compost-filled window wells get the best of you. There is nothing quite as disgusting as a bunch of rotting leaves and other debris piling up in your window wells. But, whatever you do, don't despair! Well Covered can solve that problem for you, fast, efficiently and affordably. We are widely considered to be one of the leading source of window well covers serving customers throughout the Greater Chicago Metropolitan Area. We provide the finest customized, basement window well covers that are constructed specifically to our customers' requirements. If you are looking for the best well covers for your residence, Well Covered can help. You can rely upon our window well covers to:
• Be strong and support up to 800 lbs;
• Prevent flooding;
• Prevent break-ins;
• Have a lifetime warranty;
• Allow more than 98% of light; and
• Never rust!
Consequently, it is understandable that Geneva residents recognize our well covers as their preferred choice!
Geneva Window Well Covers
Close to 22,000 residents live in Geneva, Illinois, which is a city in and county seat of Kane County. Lombard, the home of Well Covered, is located a little mover 17 miles east of Geneva. Whenever Geneva residents are looking for the best window wells installation, they come to see us. Well Covered is well known for having the necessary background and experience to deal with all of their Geneva customers' basement window well covers. Not only do we deliver Geneva customers unmatched quality, but we provide them with neighborhood discounts! Although we serve many clients in Geneva and the region, we are capable for going beyond the perimeters of Chicagoland for larger window well covers projects.
Geneva Basement Window Well Covers
If you have determined that it is high time you upgraded your window well covers, get in touch with Well Covered so they can improve your egress window wells and basement window well covers. We will create the snug-fitting, durable and sturdy window well covers that you need. You will never have to be concerned about our custom designed window well covers breaking or blowing away in a strong wind. Furthermore, the basement window well covers from Well Covered are able to support up to 800 pounds and protect your home from flooding and break-ins. Moreover, we also are known for installing security attachments. Besides that, all of our products are covered by lifetime warranties. This is the reason Well Covered is identified as the foremost source of window wells and window well covers. To learn more about our exemplary products, give us a call today at: (630) 792-0069.
Geneva Window Well Covers | Geneva Window Wells | Geneva Egress Window Wells | Geneva Well Covers | Plainfield Basement Window Well Covers