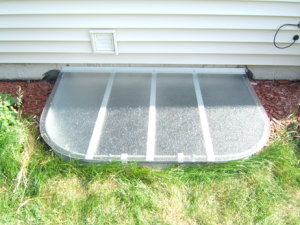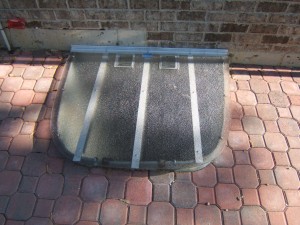 Products | Free Estimate | Coupons
Whenever our customers are shopping for remarkable and practical window well covers, they call up the industry experts at Well Covered, the premier window wells service located throughout the Greater Chicago Metropolitan Area. Our well covers are personalized for every one of our customers. In essence, our service team custom develops the well covers on spot. As we say, regardless of the shape or size, we've got you Well Covered! Every single one of our window well covers have each of the following attributes; has a life-time warranty available, supports 800 lbs., will offer 98% of light, each one is constructed from G.E. Lexan (polycarbonate resin thermoplastic), all elements are made with rust free Anodized aluminum metal and each is tailored on site to be certain of an appropriate fit. Because of this, it is no mystery why citizens in Joliet choose our top-quality products over those from our area competitors!

Joliet Window Well Covers
Joliet, Illinois is based in Kendall County and Will County. Also, Joliet contains a population of approximately 147,400 people living there. Naturally, Joliet is a lovely city, and the residents are captivated about obtaining only the best tradesmen work on their very homes – like Well Covered – in particular when related to obtaining specialists to install their basement window well covers. Not just do our customers living in Joliet appreciate the fineness of each of our products, they also like our attribute that offers community deals to our clientele. Even though we are quite known for helping our customers living in and around Chicagoland, we are regularly willing to drive beyond our normal service region for bigger jobs.

Joliet Basement Window Well Covers
If you have fallen to the realization that you do not want to manage cleaning out the undesirable stuff and pests that have collected in your window wells, it is time to get in touch with Well Covered. If you are aggravated by not having the ability to find the correct match of window well covers; and you happen to be frustrated with the low cost, plastic covers that crack or blow away, then it's about time to call up Well Covered. Our basement window well covers handle up to 800 pounds and help with protecting against break-ins and flooding. Security parts may also become readily accessible and all of our products include a lifetime warranty. What isn't to love with that? As a final point, the International Residential Code (IRC) demands that egress window wells that are 44-inches deep or better give a means for people to be able to climb from the window wells. These could also come in the kind of a step ladder or steps for the egress window wells. They come in a wide range of step sizes like 4 foot, 5 foot, and even 6 foot. For that reason, if you're ready to acquire those window well covers that you and your family are worthy of, get in touch with Well Covered at: (630) 792-0069, today! You will likely be so thrilled that you did!

Joliet Window Well Covers | Joliet Window Wells | Joliet Egress Window Wells | Joliet Well Covers | Joliet Basement Window Well Covers