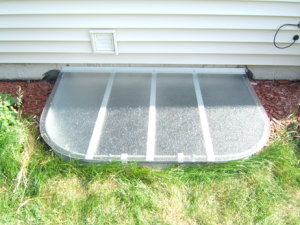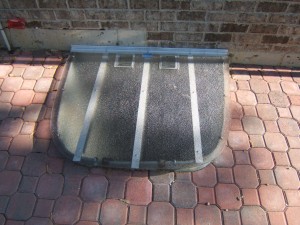 Products | Free Estimate | Coupons
Many people are unaware that basement windows can provide easy access to intruders, and not just the four-legged kind! Consequently, a window well that is uncovered by the finest basement window well covers from Well Covered, can be an open invitation to thieves! This is why you are going to want to look into having us custom-design window well covers for all of your basement window wells. Not only do our window well covers and basement window well covers deliver a wonderful does of natural daylight into your basement, but they provide the illusion of more room and openness! Well Covered is considered to be the leading supplier of window wells and window well covers serving customers throughout the Greater Chicago Metropolitan Area. In addition, our egress window wells are well-known to deliver customers with a safe and easy-to-use escape route for you and your family in the event of an emergency. You are going to want to let Well Covered take care of your window well covers because:
• Our products are well-constructed from quality materials and affordably-priced;
• Our window well covers are sturdy, durable and able to support up to 800 lbs;
• Our window well covers prevent flooding and discourage intruders;
• Our products are covered with a lifetime warranty;
• Our window well covers allow over 98% of natural light to come through; and
• Our products won't rust or rot!
It is no wonder why Lake in the Hills customers prefer Well Covered for all of their window well products!
Lake in the Hills Window Well Covers
Lake in the Hills, Illinois is in McHenry County and has more than 29,000 residents who live there. Lombard, the home of Well Covered, is located approximately 37 miles southeast of Lake in the Hills. Lake in the Hills customers our familiar with our highly indestructible and maintenance-free window wells and window well covers. We have been passing along savings to our Lake in the Hills customers for many years, and this is a contributing factor to their coming to Well Covered because they realize that we will deliver to them the most exceptional products for the most reasonable prices! We are always anxious to take care of all of our Lake in the Hills clients' needs, and provide them with the indispensable customer satisfaction they deserve. Well Covered also delivers neighborhood discounts to Lake in the Hills residents. Further, customers who live outside the Chicagoland area but who have significant window well projects can also contact for their projects, and we will be happy to assist them in their needs, as well.
Lake in the Hills Basement Window Well Covers
Our customers are always pleased with our outstanding staff and services. We are able to assist them with all of their window well needs promptly, efficiently and affordably. Our employees are known for their courtesy and for their commitment to customer satisfaction. When you are looking for a team of experts who possess the background and experience to take care of your basement window well covers and egress window wells, Well Covered is the only name you need to know! Our window well and window covers are guaranteed to withstand all sorts of weather and extreme winds and to also fit snuggly and securely. With our comprehensive selection and lifetime warranty, you will never have a reason to go anywhere else for your window wells or window well covers. To discover more about the industry's best window wells and window well covers, call Well Covered today at: (630) 792-0069.
Lake in the Hills Window Well Covers | Lake in the Hills Window Wells | Lake in the Hills Egress Window Wells | Lake in the Hills Well Covers | Plainfield Basement Window Well Covers