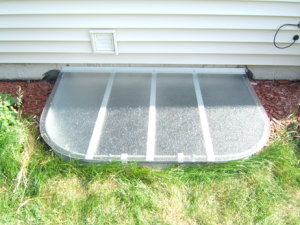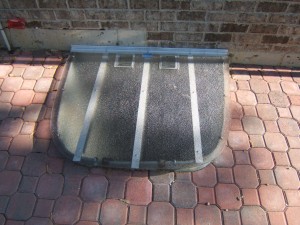 Products | Free Estimate | Coupons
Well Covered is recognized as an outstanding, innovative leader in window wells and window well covers serving customers in the Greater Chicago Metropolitan Area. In fact, once you have us install your window well covers, they will likely be the last well covers you will ever need to have installed! Our egress window wells also are guaranteed to provide you and your family a safe and effective means to exit your basement in the event of an emergency. Furthermore, security is of major importance to Well Covered, so, in addition, to keeping out leaves, debris and critters, our basement window well covers will also keep out intruders! Customers understand that they can always depend upon us to take care of all of their window well problems quickly, effectively and affordably. For all your window well needs, the only name you need to know is Well Covered, because:
• Our window well products are of the best quality and affordably-priced;
• Our window well covers are strong, durable and can support up to 800 lbs;
• Our window well covers prevent water seepage and prevent break-ins;
• Our products carry a lifetime warranty;
• Our products allow over 98% of light to come through; and
• Our products won't rust!
It is no wonder that our Mundelein customers want to protect their home and family with Well Covered's products!
Mundelein Window Well Covers
Mundelein, Illinois is in Lake County and it has approximately 31,249 residents living there. Lombard, home of Well Covered, is conveniently located about 32 miles south of Mundelein. Whenever Mundelein residents are looking for secure and durable window well covers, they come to Well Covered in Lombard. We are acknowledged as one of the foremost sources of window well covers and for delivering the most superior customized, basement window well covers made specifically for Mundelein customers' window wells. We have the talent and expertise to deal with all of our Mundelein customers' basement window well covers. WE are also known for offer incredible neighborhood discounts to Mundelein residents. Well Covered serves Mundelein customers as well as persons outside the Chicagoland region who have large projects.
Mundelein Basement Window Well Covers
Not only does Well Covered have the right products at the right prices, but our staff is completely knowledgeable about basement window well covers and egress window wells, as well. We will ensure that your window well covers are a perfect fit. They will also stand up to all kinds of weather and are virtually indestructible. After you have gone with Well Covered, you will never have any reason to go with any other window well provider. We are considered to be the primary source of window wells and window well covers in the region. To learn more about our extraordinary window wells and window well covers, call Well Covered today at: (630) 792-0069.
Mundelein Window Well Covers | Mundelein Window Wells | Mundelein Egress Window Wells | Mundelein Well Covers | Plainfield Basement Window Well Covers