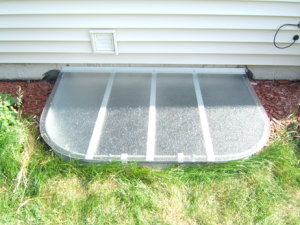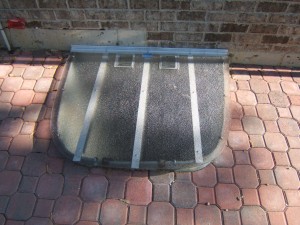 Products | Free Estimate | Coupons
Our valued customers will make contact with the industry experts at Well Covered at any time they are seeking spectacular and efficient window well covers.  We are considered to be the premier window wells service in the Greater Chicago Metropolitan Area.  Every one of our clients can expect to receive made to order well covers.  It is because our service workforce custom will develop the well covers at the location.  As we always say, no matter the sizing or shape, we have you Well Covered!  Every one of our window well covers will supply the following qualities:
Will permit greater than 98% of light;
Crafted from G.E. Lexan (polycarbonate resin thermoplastic);
Tailor-made at location to be sure of an excellent fit;
Maintains approximately 800 lbs;
Rust-free Anodized aluminum metal parts; and
Includes a life-long warranty!
Consequently, it is not much of a mystery as to why citizens in New Lenox choose our high-quality products compared to our area competition! 
New Lenox Window Well Covers
New Lenox, Illinois is village found in Will County.  In addition, New Lenox has a population of right over 24,000 individuals residing there.  It is predicted that by 2030, there will be over 90,000 people living in New Lenox.  Obviously, New Lenox is a lovely city, and those residing there are very fascinated in getting only the finest artisans improve their places of residence – like Well Covered – in particular when employing experts to put in their basement window well covers.  Not just our New Lenox clientele enjoy the fineness of every single one of our products, in addition they like our characteristic that supplies neighborhood special savings to customers.  While we're best known for serving our customers residing around Chicagoland, we are always ready to go further than our standard service area for bigger jobs.
New Lenox Basement Window Well Covers
If you happen to have come to the conclusion that you are tired of cleaning out the refuse and pests that have compiled in your window wells, then make contact with Well Covered.  If you're irritated by not having the ability to find the correct size of window well covers or tired of cheap, plastic covers that crack or blow away, then it's probably time to get in touch with Well Covered.  Our basement window well covers support up to 800 pounds and help with stopping floods and break-ins.  Security devices also may become accessiblem and each and every one our products have a lifetime warranty.  What is not to like about it?  At Last, the International Residential Code (IRC) calls for the egress window wells that happen to be 44-inches deep or greater offer a way for any individual to be able to climb out of the window wells.  It may come in the form of a ladder or steps for the egress window wells.  They are available in a wide range of step sizes like 4 foot, 5 foot, and even 6 foot.  For that reason, if you are all ready to obtain those window well covers that you and your family ought to have, get in touch with Well Covered at: (630) 792-0069, right now!  You will be so glad you did!  
New Lenox Window Well Covers | New Lenox Window Wells | New Lenox Egress Window Wells | New Lenox Well Covers | Plainfield Basement Window Well Covers