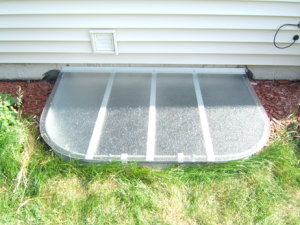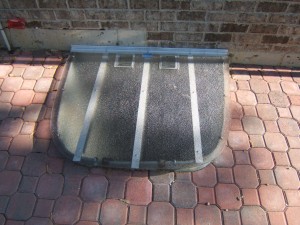 Products | Free Estimate | Coupons
Well Covered is the premier window wells service that's located in the Greater Chicago Metropolitan Area, and every time any individual is looking around for wonderful and effective window well covers, they get a hold of our industry professionals.  Our well covers are custom made for each of our clients' specific needs.  Basically, our service crew custom creates the well covers on location.  As we always say, in spite of the shape or sizing, we have you Well Covered!  Every one of our window well covers provides over 98% of light, will hold up 800 lbs, includes a lifetime warranty, crafted from G.E. Lexan (polycarbonate resin thermoplastic), all parts are rust-free Anodized aluminum metal and each is custom-made on site to ensure a proper fit.  Consequently, it's no mystery why locals in Oswego choose our excellent products any of those from our area competition! 
Oswego Window Well Covers
Located right in Kendal County is where you will find the village of Oswego, Illinois.  In addition, Oswego contains a population of approximately 30,000 people residing there.  Obviously, Oswego is a wonderful city, and the residents are intrigued about possessing only the very best tradesmen improve their places of residence – like Well Covered – specifically when it has to do with selecting the right experts to put in their basement window well covers.  Not only do our Oswego customers enjoy the superiority of every single one of our products, but they also like the aspect of providing the neighborhood special reductions.  Even though we're known for offering our customers living in and around Chicagoland, we are more than ready to go further than our traditional service region for larger initiatives.
Oswego Basement Window Well Covers
In the event you have come to the very end where you won't any longer want to manage cleaning up the critters and refuse that has accumulated in your window wells over time, then you will probably realize it is time to contact with Well Covered.  Well Covered will also make sure you obtain the correct size of window well covers that won't be low-priced where the plastic covers fly away or break.  Our basement window well covers hold up to 800 pounds and help prevent break-ins and floods, and extra security parts may also be readily available.  You can rest easy knowing that single one of our products comes with a life-time warranty.  What isn't to like with that?  Finally, the International Residential Code (IRC) does demand that egress window wells that might be 44-inches deep or higher must give a means for any person to get out from the window wells.  These may come in with a ladder or steps for the egress window wells.  They can be found in an array of step sizes like 4 foot, 5 foot, and even 6 foot.  For that reason, if you are all ready to get those window well covers that you and your family should have, get in contact with Well Covered at: (630) 792-0069, right this minute!  You are going to be so happy you did!  
Oswego Window Well Covers | Oswego Window Wells | Oswego Egress Window Wells | Oswego Well Covers | Plainfield Basement Window Well Covers