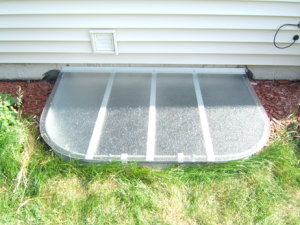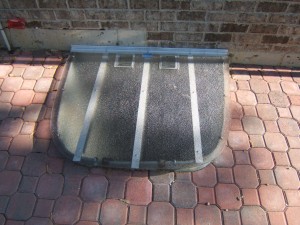 Products | Free Estimate | Coupons
At any time our customers are looking for breathtaking and successful window well covers, they call and speak to the professionals at Well Covered; the premier window wells service located in the Greater Chicago Metropolitan Area.  Our well covers are custom made for every one of our customers' needs.  In reality, our service team custom creates the well covers right at the site.  As we say, no matter what the size or shape, we've got you Well Covered!  Every single one of our window well covers furnish the following traits:
Made from G.E. Lexan (polycarbonate resin thermoplastic);
Includes a lifetime warranty;
Customized on-site to guarantee perfect fit;
Can handle up to 800 lbs;
Permits over 98% of light; and
All anodized aluminum metal parts – will never rust!
Because of this, it is no mystery and is why our Plainfield residents desire our premium products versus any of those from our area competition!
Plainfield Window Well Covers
Plainfield, Illinois is a village found within Will County, and the population in Plainfield is approximately 40,500 citizens who live there.  Plainfield is the fastest growing village in Will County.  Obviously, Plainfield is a lovely city, and the citizens living there are captivated about possessing only the greatest tradesmen work with their place of residence – like Well Covered – specifically when having to do with choosing the right experts to put in their basement window well covers.  Not just do our clients in Plainfield take pleasure in the quality of our products, but they also like having community special savings given to customers.  Though we're well-known for serving our clientele found all through the Chicago area, we are constantly prepared to travel further than our customary service vicinity for more significant initiatives.
Plainfield Basement Window Well Covers
In the event you have come to the end resulting where you don't really want to work with cleaning out the refuse and any creatures that have built up in your window wells, then it's probably time to contact with Well Covered.  If you are frustrated by not being able to discover the specific size of window well covers and happen to be sick and tired of the low cost, plastic covers that break into pieces or fly away, then it is probably time to call Well Covered.  Our basement window well covers handle up to 800 pounds and help stop floods and unwanted break-ins.  Security attachments are also available and each of our products includes a lifetime warranty, too.  What isn't to like about it?  Finally, the International Residential Code (IRC) does require that egress window wells that might be 44-inches deep or better provide a means for people to get out from the window wells.  It may be available with a ladder or steps for egress window wells; they also come in a variety of step sizes: 4 foot; 5 foot and 6 foot.  Subsequently, if you're completely set to get those windows well covers that you and your family should have, give Well Covered a call at: (630) 792-0069, right now!  You will likely be so thrilled you did!
Plainfield Window Well Covers | Plainfield Window Wells | Plainfield Egress Window Wells | Plainfield Well Covers | Plainfield Basement Window Well Covers