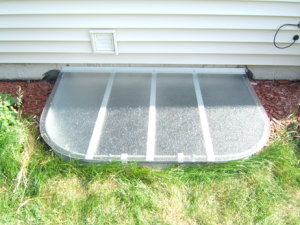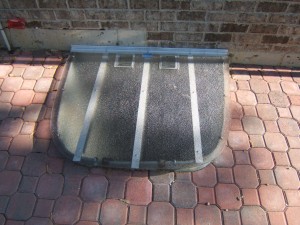 Products | Free Estimate | Coupons
Romeoville Window Wells
Whenever clients are searching for impressive and handy window well covers, they call the industry professionals at Well Covered, the premier window wells service located throughout the Greater Chicago Metropolitan Area. Our well covers are tailor-made for every single one of our clients. Actually, our service team custom builds the well covers on location. As we say, in spite of the sizing or shape, we have you Well Covered! Every one of our window well covers offer each of the following traits:
Will permit greater than 98% of light;
Crafted from G.E. Lexan (polycarbonate resin thermoplastic);
Tailor-made at location to ensure excellent fit;
Maintains up to roughly 800 lbs.;
Rust-free Anodized aluminum metal parts; and
Life-time warranty included!
Because of this, it is actually not much of a secret as to why locals in Romeoville select our premium quality products over those of our area competitors!
Romeoville Egress Window Wells
Romeoville, Romeoville is found within Will County. Additionally, Romeoville contains a population of about 39,700 individuals. Obviously, Romeoville is an attractive city, and those people residing there are fascinated in obtaining only the most ideal craftsmen focus on their homes – just like Well Covered – particularly when having to do with choosing professionals to put in their basement window well covers. Not just do our customers living in Romeoville get pleasure from the fineness of each of our products, and also they like our aspect that supplies neighborhood special reductions to our clients. Though we are best known for supporting our clients living all through Chicagoland, we're frequently prepared to go beyond our standard service vicinity for greater projects.
Romeoville Well Covers
If you really don't like to clean out the unwanted and nasty stuff that has gathered in your window wells, it's probably about time to call Well Covered. If you are discouraged by not having the ability to obtain the correct fit of window well covers; and you are fed up with the low-priced, plastic covers that blow away or break, then it's about time to contact Well Covered. Our basement window well covers hold up to 800 pounds and help with protecting against floods and break-ins. Security devices could also be available and every one of our products include a life-time warranty. What isn't to like with that? Ultimately, the International Residential Code (IRC) demands that egress window wells which might be 44-inches deep or better supply a means for any person to be able to climb out from the window wells. These could come in the kind of a ladder or steps for egress window wells. They come in a range of step sizes: 4 foot; 5 foot and 6 foot. For that reason, if you are all set to obtain those window well covers that you and your family are worthy of, call Well Covered at: (630) 792-0069, today! You are going to be so happy you did!
Romeoville Window Well | Romeoville Window Wells | Romeoville Egress Window Wells | Romeoville Well Covers | Romeoville Basement Window Well Covers