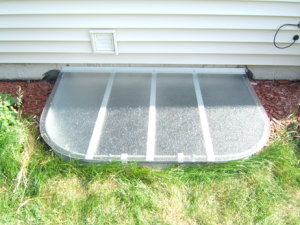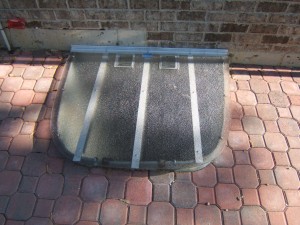 Products | Free Estimate | Coupons
Whenever our valued clients are shopping for magnificent and highly effective window well covers, they call and speak to the industry experts at Well Covered, the premier window wells service located all through the Greater Chicago Metropolitan Area. Our well covers are especially designed for all of our clientele. The truth is, our service group custom builds the well covers at the site. As we always say, no matter the size or appearance, we will have you Well Covered! All of our window well covers provide each of the following characteristics; supports 800 lbs., has a life-time warranty available, will offer 98% of light, all elements are made with rust free Anodized aluminum metal, each is tailored on site to be certain of an appropriate fit and each one is constructed from G.E. Lexan (polycarbonate resin thermoplastic). For that reason, it's not much of a secret as to the reasons Wauconda residents choose our premium products over those of our competition!

Wauconda Window Well Covers
Wauconda, Illinois is located within Lake County. Also, Wauconda contains a population of over 13,600 citizens. Obviously, Wauconda is a wonderful village, and those residing there are very captivated about obtaining only the finest artisans improve their houses – like Well Covered – mainly when having to do with choosing professionals to put in their basement window well covers. Not just do our Wauconda clients appreciate the superiority of our products, they also like the attribute that provides community discounts to our clients. Although we're acknowledged for helping customers living around Chicagoland, we're constantly ready to go further than our regular service area for larger initiatives.
Wauconda Basement Window Well Covers
In the event you have fallen to the bottom line that you don't want to work with cleaning out the unwanted and pests that have compiled in your window wells, it's about time to get in touch with Well Covered. If you're discouraged by not being able to discover the correct fit of window well covers; and you are fed up with the low-cost, plastic covers that break or blow away, then it is likely the time to contact Well Covered. Our basement window well covers support up to 800 pounds and help prevent floods and break-ins. Security parts also may be made readily available and every single one of our products have a lifetime warranty. What is not to love about it? Lastly, the International Residential Code (IRC) does demand that egress window wells which can be 44-inches deep or larger provide an approach for any person to be able to climb from the window wells. These may come in the kind of a step ladder or steps for egress window wells. They are available in a wide-range of step sizes: 4 foot; 5 foot and 6 foot. For that reason, if you're all ready to get those window well covers that you and your family should have, get in touch with Well Covered at: (630) 792-0069, now! You are going to be so thrilled that you did!

Wauconda Window Well Covers | Wauconda Window Wells | Wauconda Egress Window Wells | Wauconda Well Covers | Wauconda Basement Window Well Covers