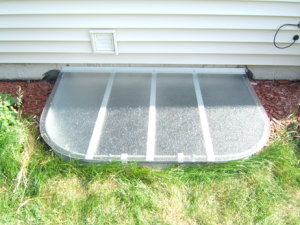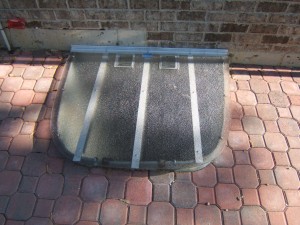 Products | Free Estimate | Coupons
Every time our valued clients are searching around for spectacular and highly effective window well covers, they call and speak to the experts at Well Covered, the premier window wells service found in the Greater Chicago Metropolitan Area. Our well covers are personalized for each and every one of our customers. The fact is, our service group custom produces the well covers at the location. As we say, irrespective of the size or appearance, we now have you Well Covered! Every single one of our window well covers will provide the following characteristics; supports 800 lbs., has a life-time warranty available, will offer 98% of light, all elements are made with rust free Anodized aluminum metal, each one is constructed from G.E. Lexan (polycarbonate resin thermoplastic) and each is tailored on site to be certain of an appropriate fit. As a result, it's actually no mystery as to why Wheaton residents decide on our excellent quality products over those of our competition!

Wheaton Window Well Covers
Wheaton, Illinois is based in DuPage County. Moreover, Wheaton has a population of right over 53,500 citizens living there. Evidently, Wheaton is a beautiful city, and those people living there are serious in having only the very best artisans focus on their homes – like Well Covered – mainly when it has to do with acquiring professionals to set up their basement window well covers. Not only do our customers reside in Wheaton value the excellence of each of our products, they also like the trait that provides community special reductions to customers. Despite the fact that we're best known for offering clientele living all over Chicagoland, we're constantly prepared to go further than our normal service area for larger initiatives.

Wheaton Basement Window Well Covers
If you happen to have come to the finish that you won't any longer want to deal with cleaning up the unwanted and pests that have compiled in your window wells, it is time to call with Well Covered. If you are discouraged by not having the ability to discover the specific fit of window well covers; and you are fed up with the low-priced, plastic covers that break or fly away, then it's about time to call Well Covered. Our basement window well covers support up to 800 pounds and help avoid floods and break-ins. Security parts may also become readily available and every one of our products come with a life-time warranty. What is not to like about that? As a final point, the International Residential Code (IRC) demands that egress window wells that happen to be 44-inches deep or higher offer a way for any individual to be able to climb from the window wells. These can also come in the form of a ladder or steps for egress window wells. They are available in an array of step sizes: 4 foot; 5 foot and 6 foot. Subsequently, if you're prepared to get those window well covers that you and your family deserve, call up Well Covered at: (630) 792-0069, today! You will be so thrilled that you did!

Wheaton Window Well Covers | Wheaton Window Wells | Wheaton Egress Window Wells | Wheaton Well Covers | Wheaton Basement Window Well Covers